People always ask what I'm dressing my daughter as for Halloween! I don't celebrate Halloween. However, since she's been in school I've let her participate in the annual Fall Storybook Parade. Of course I usually dress her up in some type of costume. We avoid anything that requires a wig, has tons of glitter or scary. Back in my day, we had those plastic costume dresses with the coordinating plastic mask. Gosh those things were awful.
I've dressed Journee as Doc McStuffins, Tinkerbell, The Little Mermaid, Wonder Woman and the list goes on. This year I tried to give her some other options ( I was honestly trying to avoid princesses or anything that requires a tutu) like Cat In The Hat or some other characters from Dr. Seuss. I even suggested officer Judy Hops from Zootopia as we both really love the character and the movie. She politely declined my request and insisted on being a princess AGAIN. Don't get me wrong, there is nothing wrong with her wanting to be a princess but I wanted her to use her imagination and know that there are much more options to choose from.
Finally I agreed to let her dress as a princess of some sort so we set off to find the perfect princess costume. We made a deal that the first princess costume that fit correctly would be the one we get. I wasn't too enthusiastic about Snow White but after scouring the shelves for about 45 minutes I was over it and I gave in. It is really not that serious to be honest. It would be worn for one day and then thrown in a costume bin until next year.
"Remember you're the one who can fill the world with sunshine."
- Snow White
Honestly, I was also happy that snow white didn't require a wand, a crown or some fancy shoes. Yall tinkerbell wore me OUT right down to her little glitter fairy dust that I'm still finding stuck to things from two years ago. Never again! For Snow White she only needed the dress, a red bow and viola!! Oh and the apple that has been traveling back home in her lunch box for the past five days. This was the most inexpensive storybook character that she has dressed up as. This dress cost me $15 bucks at Walmart and her little red bow was $1.00. That's my kind of deal! #winning .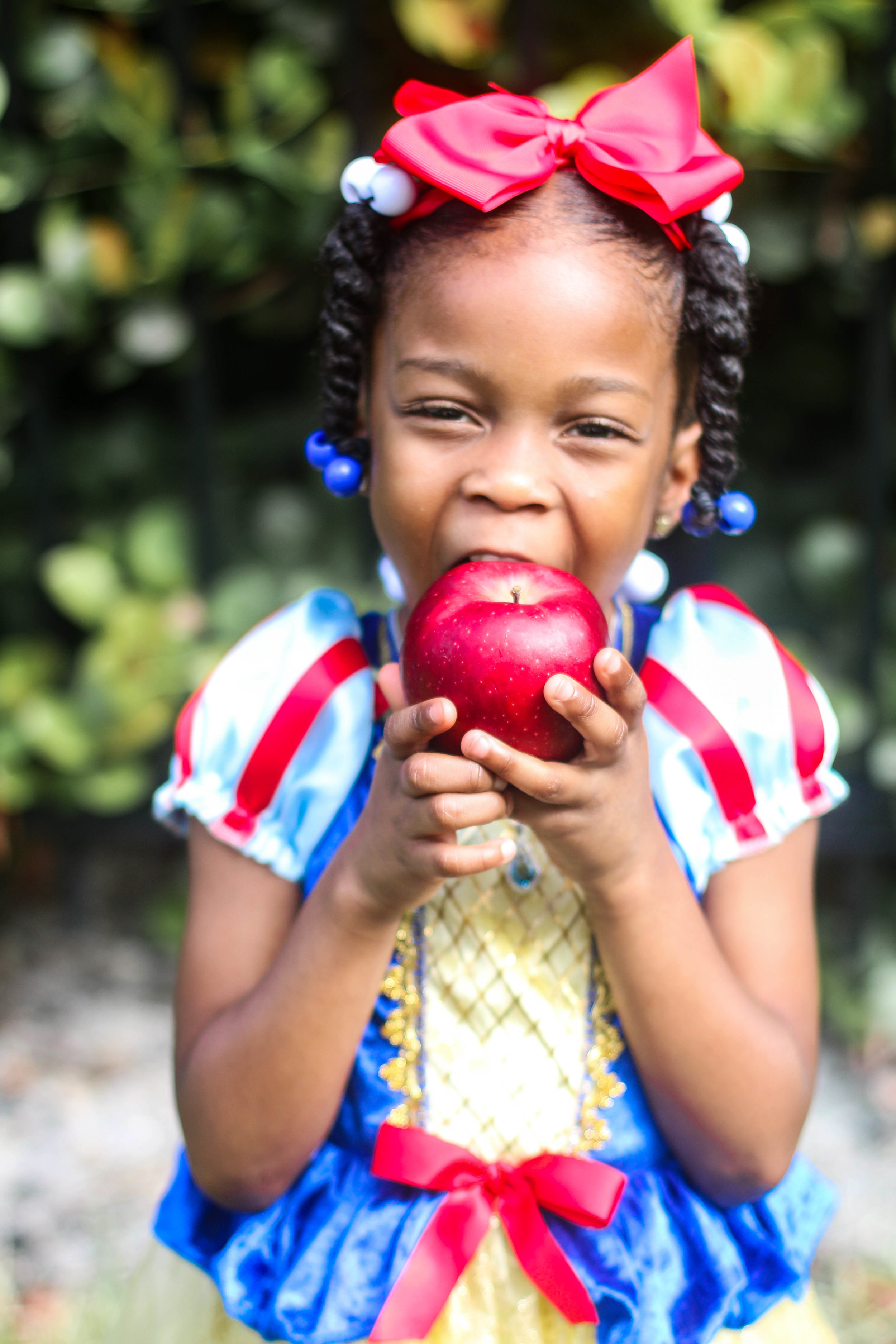 ONE LITTLE BITE WON'T HURT RIGHT?…
Next year, we agreed to be more creative and really focus on a storybook character other than a princess. Pinnochio is pretty cool, or even characters from the Wizard Of Oz and Alice in Wonderland. I always tell her that she doesn't have to be a princess to be brave, smart or beautiful. She just needs to be herself!
What creative story book costumes have you dressed your kids in? Is your daughter is princess lover too?